5/7/22 Dads Winster Wakes and Morris Dancing adventure.
The 2nd of July was Winster Wakes. It started well for Mum, with Dad waking in the very early hours of the morning. He had decided it was time to change his socks, so he opened and closed many drawers in order to find some socks. He then looked for something on the floor. Mum trying to still be asleep, Dad decided that he will take of a sock (he sleeps in socks, the vascular dementia means that his circulation is very poor and he gets cold very quickly) maybe put on another, throw a sock or two on the floor, put on another sock, hide one under his pillow for later, retrieve the ones on the floor, put on another sock on a random foot, throw more on the floor. Thankfully for Mum this was hard work, and Dad was now tired. He settled down for more sleep. Poor Mum was wide awake.
When the carer came at 7.30am, Dad has 3 socks on, 2 on the floor and one under the pillow. Dad is unsure how they all got there. I think it was nargles!
I came round about 11am, this gave Mum time to have a rest, a shower and then get her Morris clothes on. Dad, myself and Ben, started a train jigsaw. When Mum was ready, I got my Winster Witches Morris gear on.
I think its time for a bit of background on Winster Morris and Dad. We moved to Winster 1981. On Wakes Dad, our neighbour Roland, came round with a bag of stuff. Dad was told to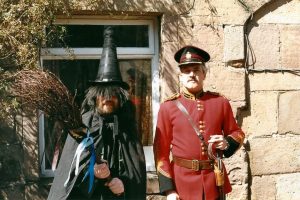 "get this on Frank and follow me"
That was Dad's induction to the Winster Morris Witch.
Soon after that Mum remembers receiving a letter from, she thinks, Janet auntie, Mrs Nancy Gregory, who was also one of my Sunday school teachers. It was a lovely letter and said Nancy had even shed a tear watching Dad. It was her husband, George, who was the Witch before the war, and Dad just looked the part, messing around just like her witch before.
That was that, and Dad had been the Winster Witch ever since. He has had a great time. Danced on Blue Peter, been to Lithuania, Romania, Italy, France, Poland, Germany. Numerous folk festivals, Danced a haka and even DANCED WITH MR BLOBBY! So you see Winster folk, its worth joining the Morris team for the international travel!
Winster Morris has many traditional characters. A King and Queen, Jester and Witch being the main ones. For more information see the Winster Morris website. And to see where they are dancing next look on the facebook page.
https://www.winstermorrisdancers.org/
His last Wakes where he was the witch, he had an Padawan. He knew he could not do it any more, so I came with him. We processed up the main street together and danced up to the market house.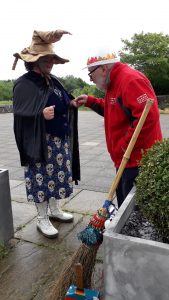 Then, very quietly, Dad gave me his witches broom. In so doing, passed down the mantle of Winster Witch to his daughter. I don't know how many noticed, but for Dad and the 40 years of being the Witch, it was a big emotional moment for our family. For the rest of the Wakes, he sat watching and telling me when I had got it wrong. I even had to have broom wealing lessons!  The character of Witch has been personally past down from villager to villager and to Daughter too.
Coming back to this year. It was my first real Winster Witch Wakes on my own, due to the break forced on the village by covid.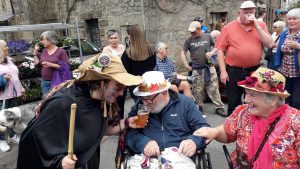 Dad was in a wheelchair with my Husband, Ben. He watched the procession, and then came and sat with Mum. Mum played the recorder with the rest of the band. Dad was still up to a bit of witching tomfoolery, beer drinking, ice cream and burger eating. Eventually he had had enough. Ben and I took him home so that Mum can carry on with the Morris band. Ben and I settled Dad down with a cuppa and put steam trains on the tv. I rejoined the Morris. Ben and Dad had a snooze, and then did a jigsaw.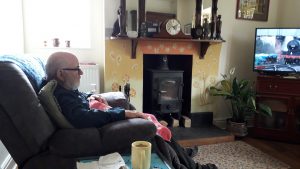 As a family I would like to say thankyou to Winster village folk. So many of you came and said hello to Dad. He might not know who you are, but he loves talking to people. So don't worry if he doesn't know you or your name, lets face it he was never good with names! Just say hello and who you are, maybe where you know him from. Thats all is needed.