An average week in the life of a carer.
I am sat here at the end of October on hold waiting for the prepaid financial services that I use to pay for Dads care. It is the sixth number I have rang and I have be on hold now for 10 minutes. What has happened is that I have to pay for Dads daycare using the Derbyshire Dales prepaid card system, which I have being doing now for most of this year. The system now does not recognise the daycare centre. I am not hopeful! This made me think on how much it is not just a journey for Dad but for both myself and Mum. Looking back on this months events and stresses makes for an adventure too!
Mondays
As with all days I start by checking if Mum is alive by messager. I get an update on how the morning carers visit has gone, if Dad has got up at 7am or decided if he didn't want to. Has he got dressed, and what he has had for breakfast, mostly I am jealous about this since he is having custard, bananas, stewed pears and the most yummy food. Dad on Monday goes to daycare. One day this week I had to pick Dad up from daycare to take to the Whitworth at 1.30.
I usually have two reflexology clients to fit in, and I try to have a walk with a friend. You need to keep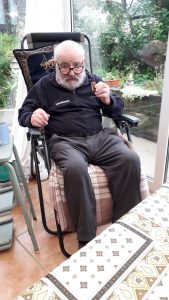 yourself active too!
I have now got through to the prepaid, and they are having website issues, its taken 40 minutes. I am now calling the Office of Public Guardian. I might be taking my pension out by the time they answer.
Tuesdays are Wirksworth market day. I had a blood test one of the mornings, managing your health as a carer can be tricky! The first tuesday of the week, my husband drops me off at Mums so I can use their car to bring them to the market. Did I say my car has also broken down to add to the marvellous adventure. Dad has a bath lift thing that was serviced and a part was taken away. The new part was suppose to come within 3 days, 4 weeks later we are still ringing mediquip and Dad can't have a bath. Mediquip says it will come today! We are surprised and try and work out if we can still take Dad shopping. He loves going to the market and seeing everyone. They all know him and it helps with social stimulation for him.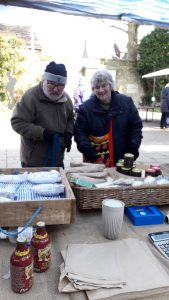 We decide to go, but make a hurried trip, and Dad doesn't do fast! We get mostly what we need from the wonderful Wirksworth market, and refills on the road.
We rush home only to find that Mediquip have left a message saying it will be sometime tomorrow. They give you no idea of time, we could have had tea and cake at the sour cow!
I must admit I had a bit of a wobble emotionally that Tuesday. So thank you to brandnu for a reflexology session that help to clear my head.
I am still on hold to the office of public guardian. I think I am number 34 in the que. It is now 11am.
Wednesdays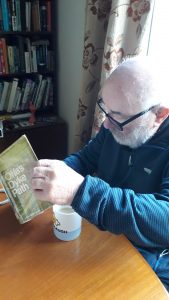 We often have meetings with health care professionals on Wednesday. One of these is a Palliative dementia care nurse. This is a new group we have suddenly been referred to. So far it is great. If you know someone with dementia you can self refer to them. She went through all Dads tablets with us, and through the "respect" form. This form covers what the family wants to do if Dad needs to go to hospital etc etc. Its not a nice discussion but so important to do.
We also get a speech therapist, not sure why. And another health care professional was booked in, I am not sure why or who. It all gets very confusing.
One wednesday this week I had a carer, work juggle fail, and forget I had a client at the same time as the Nurse visit. Most Wednesdays I have at least two reflexology clients to fit in too. And yes if I can, try to have a social life and go to the sour cow crochet club for an hour!
I am shattered.
10th in the queue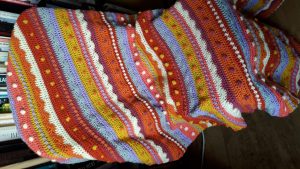 Thursdays
I usually manage to fit in piano lesson. You need your own life too!  We have a hair dresser every other month along with two of Mums school friends. This is big social day for Mum, and Dad. He is happy sitting and listening to all the noise. Soup is a bit confusing on how to eat, using a knife and fork doesn't work. The friends go, and I do a jigsaw with Dad while Mums has a snooze. Thursday I usually have three or four clients to do, its my main working day.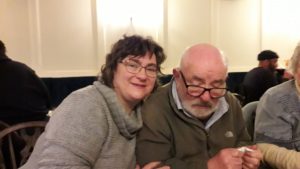 Fridays
Dad normally has daycare. It was Friday that I had my Covid jab, getting Mum and Dads Covid jab was a drama. They have booked it in at the Darley Dale surgery, however that was a disorganised mess where they were queueing for over 2 hours. Dad got very distraught and Mum has huge pain in her hips and can not stand for too long. They have to come home. Fortunately, I was able to take them to the walking in Matlock.
I have a regular client on friday, and I usually try to do Mums feet too.
The Weekends!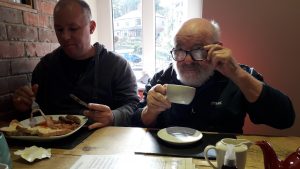 These are long. Mum has to keep Dad entertained. I try to do a Saturday or Sunday lunch. And we try to go out both days. There are lots of jigsaws to be done to.
The weekend my car broke we had breakfast at the fountain café in Bonsall.  This is why my husband on the photo is having breakfast and Dad just tea, we were late! I needed the treat of breakfast out to calm down.