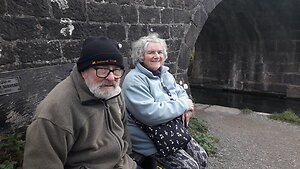 The past week has been hard work. Dad is lovely, but anxious, in need of constant attention, and has got more and more forgetful. All of which is wearisome. The added complication of covid is causing extra stress. Dad gets tested every time he goes to day-care. If he tests positive then the day care will stop. I am not sure how we would cope without this care. This leaves us all with the very difficult balancing act of how much do we self isolate as a care bubble, and making sure Dad, and we, get social interaction.
To cheer ourselves up we went out to Cromford Mill. the first problem was that Dad had yet to go to the toilet. He needed a bit of movement to get some movement going! I took him outside to see my car, apparently it is very dirty and could do with a wash you know! We walked around the house to the back door. collected some wood from the wood shed, and amazingly this was enough for Dad to need to go inside. After the movement, I went through the normal chat with Dad over getting his shoes on.
"Dad get your shoes on"
"Why do I need shoes on"
"We are going to Cromford"
"Are we leaving the village?"
"yes get your shoes on"
"Where is Mum" he is still standing up looking worried
"in the shower getting ready to go out, sit down and put your shoes on"
"where are we going"
"Cromford canal, get your other shoe on"
"are we all going"
"yes, get your last shoe on"
"Where is Mum"
"She is getting ready to go out. lets get your coat on"
"are we going in your car"
"Yes, coat on"
"Are we leaving the village"
"Yes, do you have a hat?"
"A what?" "wait a minute"
"Your Hat for your head""
"where are we going"
"To comford canal"
"do you know the way" etc etc
While this was going on Mum had time to have a shower without too much interruption! Its the small things that are important!
Dad sat in the front of the car so he could see were we where going, its a big change from the Peak Park ranger and HF guided walk leader. He does like to know where he is and gets so anxious where he feels that he is getting lost.
We parked by the canal and walked a short distance along the tow path. Mum remember the time when they decided to move to the area, over 40 years ago, they came to the canal. There were two narrow boats with butty. Having been on many a narrowboat, they both asked if they could have a trip. However with a shortage of people to steer they were not running many trips down the canal. Dad says, he can steer. So off they go, with Dad on the tiller and the horse towing. He expertly turned it round at the end too.
The photo at the top of the blog is of Myself and Dad on a canal holiday. Ironically I am the one in the life jacket when I can swim like a fish, Dad however, swims like a millstone! Hobbits aren't keen on water, unless they are river folk.
Dad didn't remember any of this. He enjoyed the walk. We swapped car parks to be closer to Arkwright mill complex. I went in the fox and stitch wool shop, Dad wasn't impressed but I was. Great range of wools and yarns. The bookshop there is fabulous too.
After the canal adventure we went home for lunch, and a jigsaw. Its difficult to know which Dad enjoyed best, a trip out to a place with lots of memories that he can't remember, lunch, starting a new jigsaw or lighting the fire!